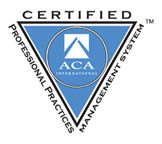 The Professional Practices Management System (PPMS) certification is a rigorous process requiring initial and on-going internal audits to ensure an agency has documented quality management policies and procedures. CSII successfully completed the ACA International's extensive process to become a PPMS certified collection agency validating the effectiveness of CSII's department specific work standards. The PPMS certification was designed to ensure consistent quality control and production at all organizational levels within an agency and is based upon the internationally recognized standards of ISO 9000 and Six Sigma.


CSII successfully completed a SOC 2 Type II Service Organization Control (SOC 2) examination in accordance with attestation standards established by the American Institute of Certified Public Accountants (AICPA) providing evidence that CSII has a strong commitment to deliver high quality services to our clients.


CSII is a longstanding
and active member of the ACA International, The Association of Credit and Collection Professionals.